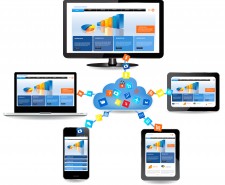 If your small business isn't in compliance with OSHA's Hazard Communications Standard the turn of the year marks the perfect time to get compliant.
LOS ANGELES, January 10, 2020 (Newswire.com) - OSHA's Hazard Communications Standard is a regulation in which many small companies struggle with. It says that every business with employees must provide safety information to work with any product in the workplace which may have an adverse health risk. That information is in the form of safety data sheets that every manufacturer is required to provide to its customers. The HCS also provides some relabeling guidelines in the event your employees are working with a potentially hazardous product that has been placed in a container other than the original, which would have had the precautionary information on its label.
For many years, small business has achieved compliance by providing an Msds binder to its employees so that this important information could be referenced throughout the workday. For employers with multiple workplaces, this can be quite the task because keeping those paper binders up to date takes time. Without the records available to each employee throughout the workday, employees face serious fines from OSHA.
In these most recent years, many small businesses are now using cloud-based technology to keep the sds records online where they can be managed from one central location and deployed to each employee via a computer terminal, tablet, or smartphone.
Now is the time to take action. January is a good month to set a reminder to update your safety data sheets because OSHA expects the responsible person to keep an eye on the changes and make sure the information provided to the employee is accurate. Set another reminder in your calendar, maybe around mid-year, to help keep those records up to date.
If you're not providing this information to your employees then now is the time to start. OSHA issues thousands of citations each year to businesses that are not in compliance with the standard, and those fines could amount to thousands of dollars per day until you are.
Add compliance to OHSA's Hazard Communications Standard to your list of New Year's resolutions today.
Source: Msds Catalog Service LLC
Share: